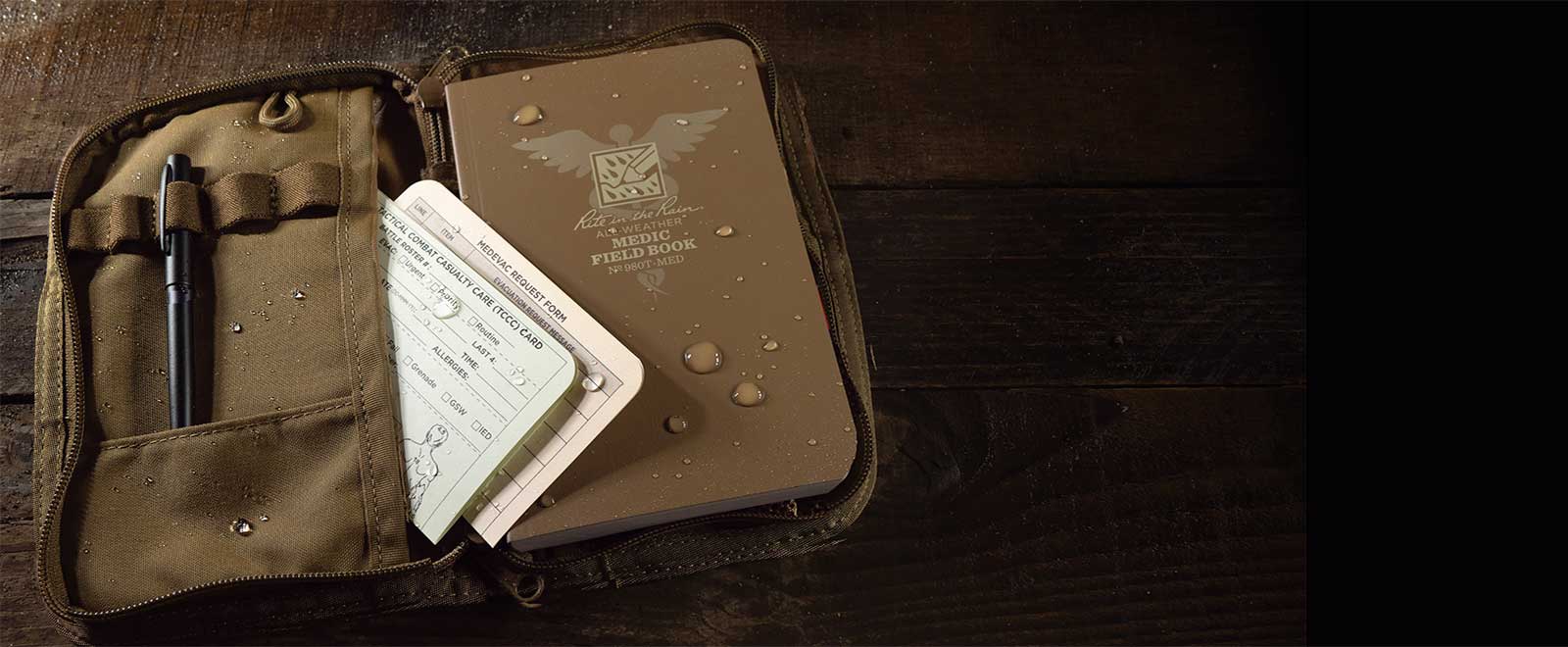 MEDIC FIELD
BOOK KIT
WHEN EVERY MOMENT COUNTS, YOU WANT
GEAR THAT IS TESTED, TRUSTED, AND TOUGH.
DESIGNED FOR MEDICS, COMBAT LIFESAVERS,
AND SEARCH & RESCUE TO TRACK PATIENT
VITALS WHILE IN THE HARSHEST CONDITIONS.
MEDIC FIELD BOOK KIT FEATURES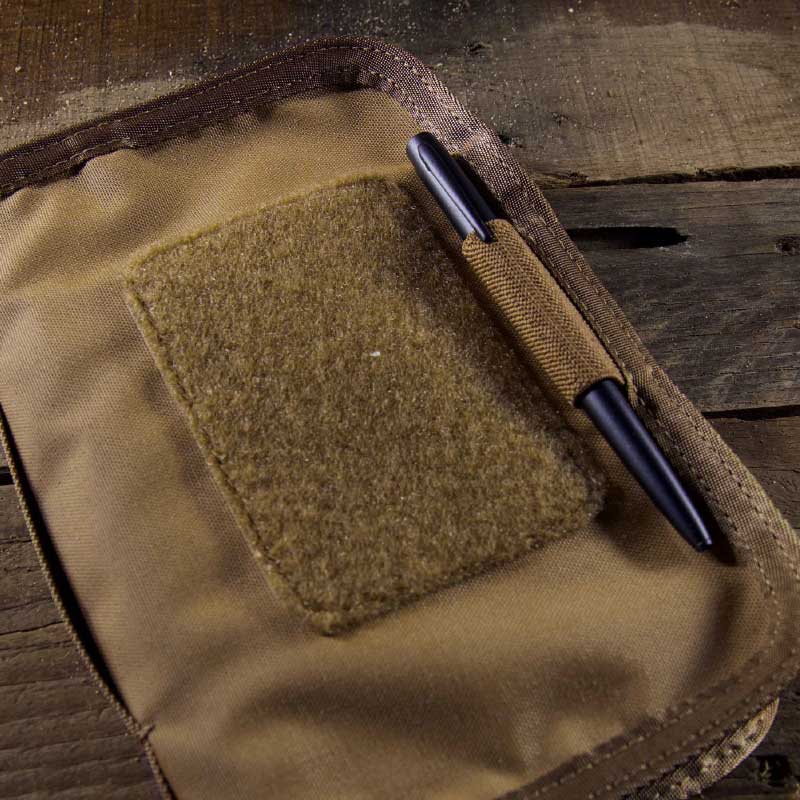 DURABLE LOOP MATERIAL
The 3" x 5" Loop panel fits both Name Tapes and Flags so you can quickly identify your kit. Record vital information in a second's notice with the external pen holder. Keep hold of your kit with the added spine strap.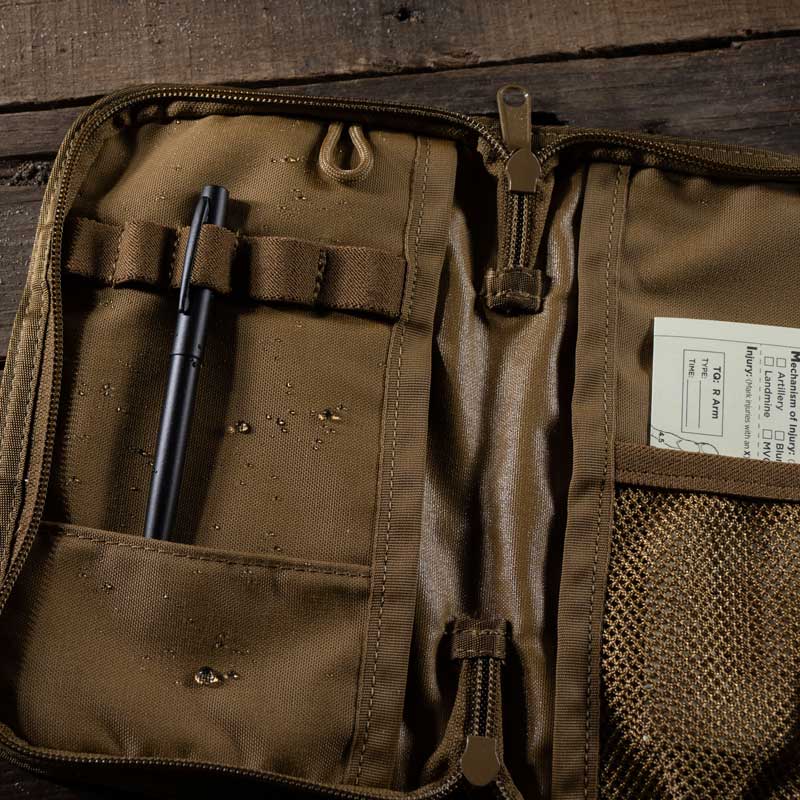 CORDURA® COVER & PEN
Keep it all together in this rugged fabric Cover with room for writing gear. The double-zippered closure allow for secure yet quick access. The Metal Pen's pressurized ink cartridge writes through water, sweat, grease, and mud.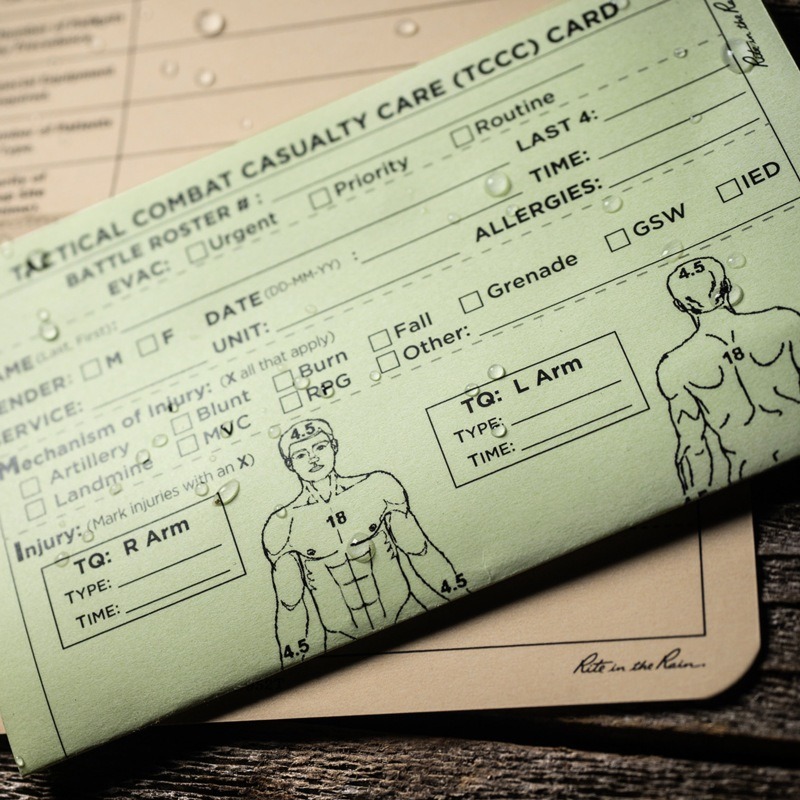 COMBAT CARDS
Stay ready with folding 3" x 5" Combat Cards. Record critical 9-Line MEDEVAC & TCCC/MIST information. Printed on reliable #100 Rite in the Rain cardstock.
Specifications
ITEM
N

°
980T-MED-KIT
Prolonged Casualty Care Medic Kit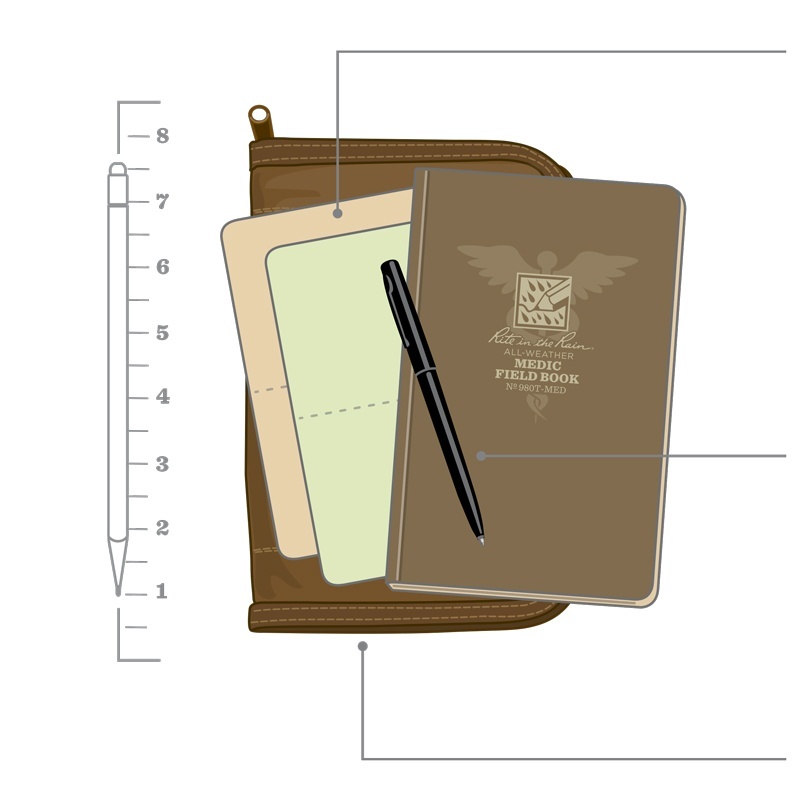 COMBAT CARDS
TCCC/MIST CARDS:

Green

9-LINE MEDEVAC CARDS:

Tan

SHEET SIZE:

5" x 6" open, 3" x 5" folded, two-sided

QTY:

50 cards each

WEIGHT:

100# Rite in the Rain
ALL-WEATHER PEN
INK COLOR:

Black

CARTRIDGE:

Pressurized, performs in temps from -30F to 250F, underwater (down to 35ft)

REFILLS:

Available
CORDURA® COVER
COLOR:

Tan

MATERIALS:

CORDURA® fabric

FITS:

Books up to 4.75" x 7.5"

STORAGE:

4 internal writing instrument pockets, 1 internal notebook pocket, 1 internal large pocket

FEATURES:

Rugged zipper closer
MEDIC FIELD BOOK
COVER COLOR:

Tan

COVER MATERIAL:

Field-Flex

BINDING STYLE:

Perfect bound

PAPER:

Tan

SHEET SIZE:

4.25" x 7.25"

PAGES:

160 pages / 80 sheets

PERFORATED:

Yes

WEIGHT:

32# Rite in the Rain

INK COLOR:

Brown

PAGE PATTERN:

Prolonged Field Care Tracking Forms, Universal Pattern, and more.

REFERENCE:

Imperial and metric rulers, conversions, MEDEVAC evacuation, MEDEVAC request, 16 pages of medical reference

View Sample Pages (pdf)
IDENTIFICATION
ITEM NO:

980T-MED-KIT

UPC:

632281103677

NSN:

n/a
SINGLE UNIT
SIZE:

5.75" x 8.5" x .875"

WEIGHT:

1.42 lbs

MANUFACTURED:

U.S.A.
PACKAGE
QTY:

1 kit

SIZE:

5.75" x 9.375" x 1.375"

WEIGHT:

1.42 lbs
MEDIC FIELD BOOK KIT
Fabric Cover, 4.625" x 7.25" Medic Field Book, All-Weather Pen, TCCC/MIST and 9-LINE MEDEVAC Cards (50 each)
---