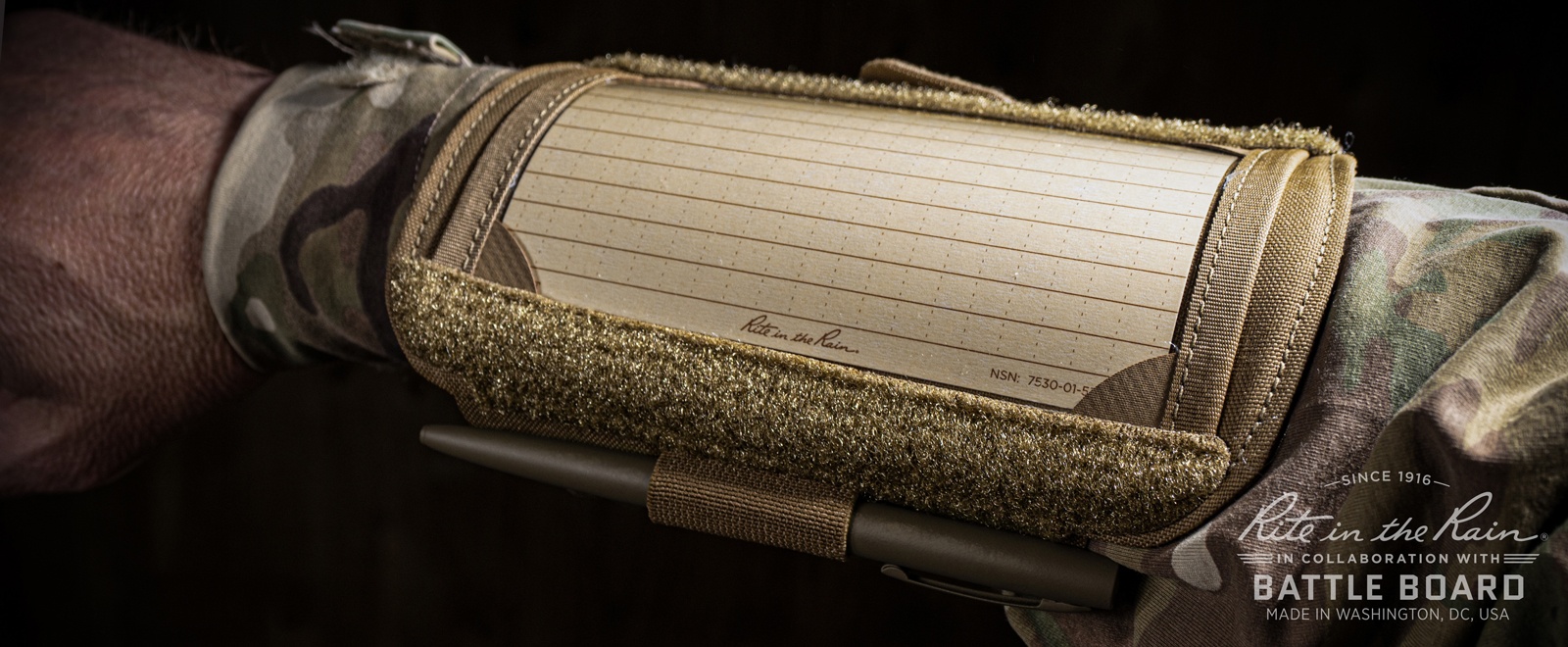 Arm Band Kit
On a mission or an adventure,
this kit provides hands-free
access to your data while
protecting it from the elements
in the field. Made in the USA.
ARM Band KIT FEATURES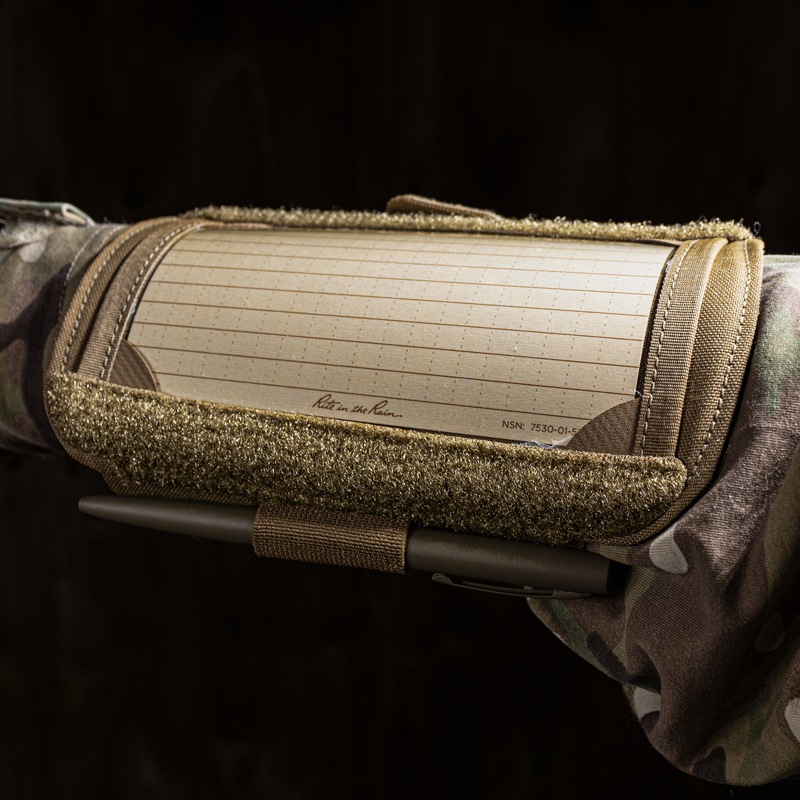 HANDS-FREE
Stay on task with this hands-free Arm Band Kit. View your checklists and itineraries at a glance through the Polycarbonate scratch-resistant 3" x 5" window.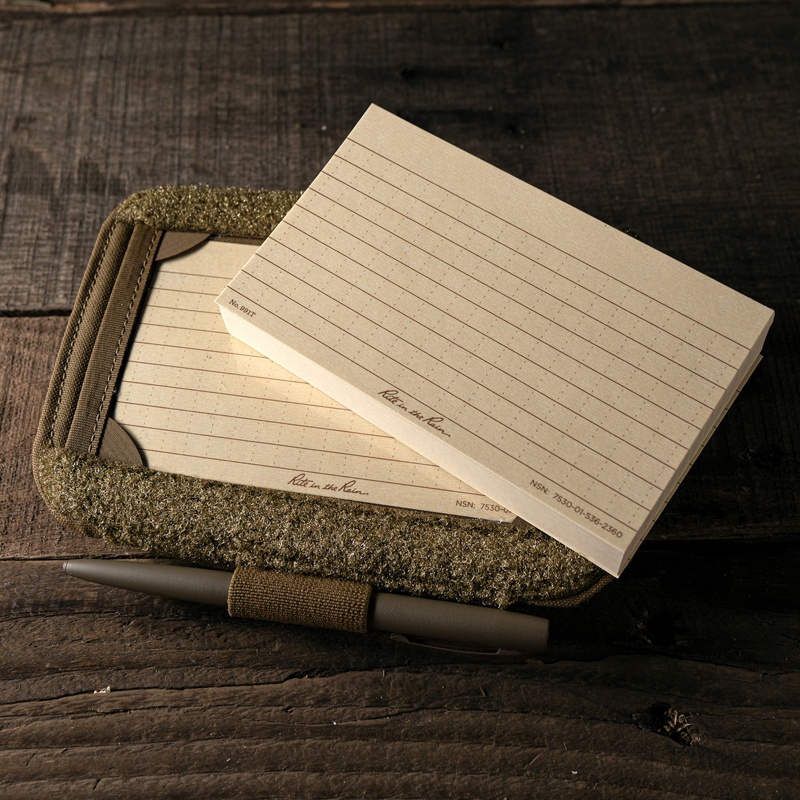 INDEX CARDS INSIDE OR OUT
Ready to write down critical data? No problem... Secure your index card behind the rubberized card-corners, then slide the card behind the protective window for easy referencing.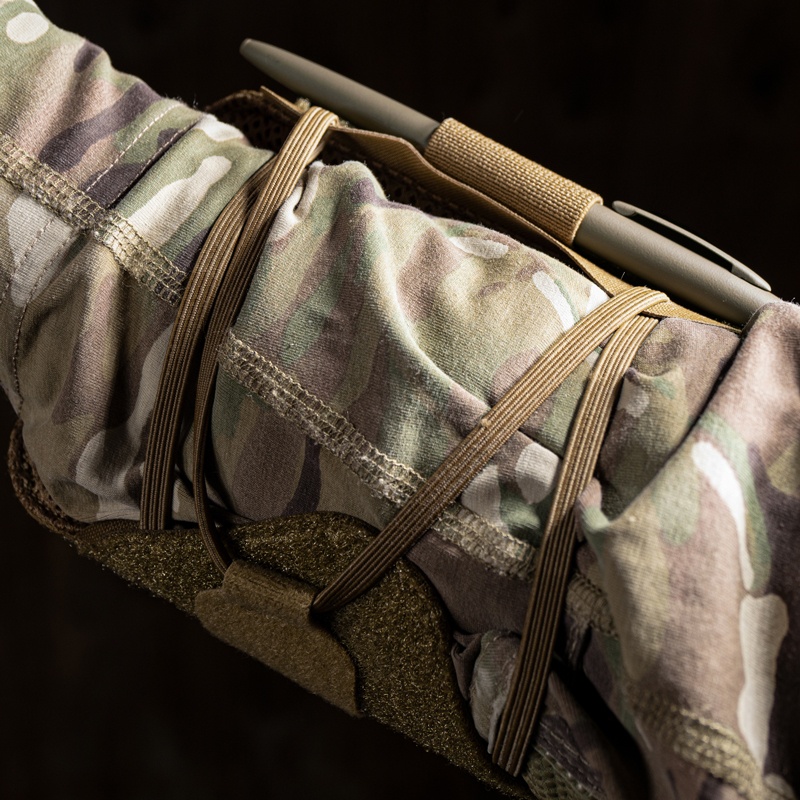 SECURE & COMFORTABLE
The elastic straps, padding, and mesh liner make this Arm Band secure and comfortable. An instrument loop keeps your metal All-Weather Pen at the ready.
Specifications
ITEM
N

°
BB991T-KIT
Arm Band Kit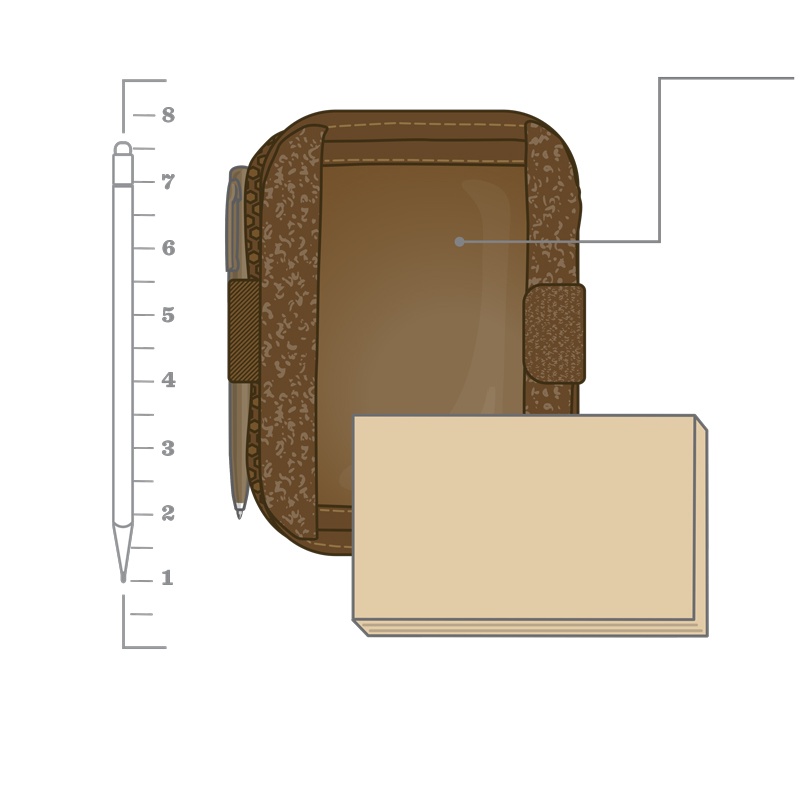 ARM BAND
COLOR:

Tan

MATERIALS:

Cordura® fabric, polycarbonate window, elastic band with hook-and-loop attachment, 100% Berry Act compliant

FITS:

3" x 5" index cards, folded Combat Cards

STORAGE:

1 pen loop, 1 display window/sleeve, external card-corner holders

FEATURES:

Transparent sheet protector for use with a map marker or grease pencil (not included), adjustable arm straps, card-corner holders, elastic pen loop, mesh spacer and padding
METAL PEN - No. FDE97
QUANTITY:

1

SIZE:

5.125" L, .375" D

BARREL COLOR:

Flat Dark Earth

INK COLOR:

Black

POINT SIZE:

.9mm

CARTRIDGE:

Pressurized, performs in temperatures from -30F to 250F, under water (down to 35 ft)

REFILLS:

ATTENTION:

Not to be used on
polycarbonate sheet.
INDEX CARDS - No. 991T
QUANTITY:

100 sheets per pack

PAPER:

Tan

CARD SIZE:

3" x 5"

WEIGHT:

100# Rite in the Rain

INK COLOR:

Brown

PAGE PATTERN:

Universal front, blank back

FEATURES:

Archival-grade paper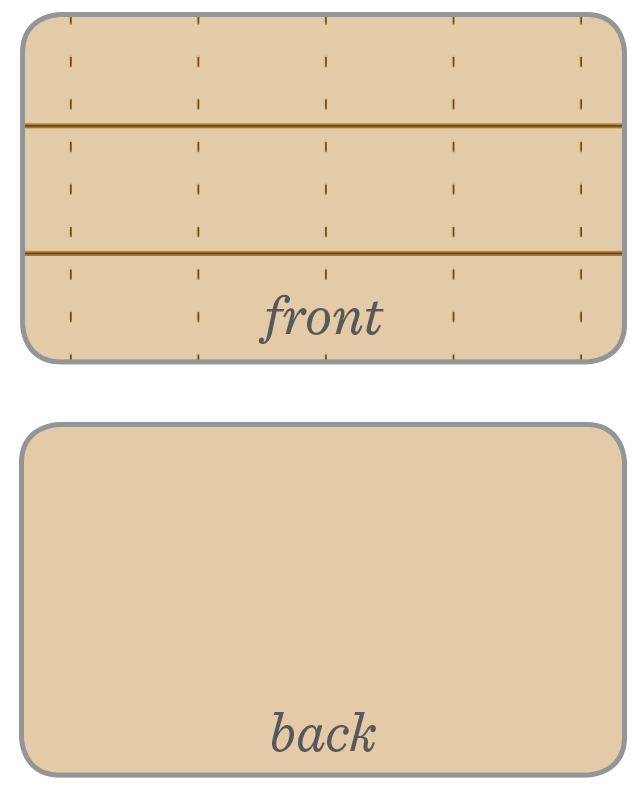 IDENTIFICATION
ITEM NO:

BB991T-KIT

UPC:

632281104131

NSN:

n/a
SINGLE UNIT
SIZE:

6.5" x 4.75" x 1.375"

WEIGHT:

.50 lbs

MANUFACTURED:

U.S.A.
PACKAGE
QTY:

1

SIZE:

6.5" x 4.75" x 1.375"

WEIGHT:

.5) lbs
Arm Band Kit
Arm Band, Index Cards (100 pk), All-Weather Pen
---